Alexandra Laufer Lobo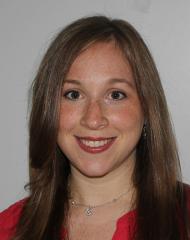 Alexandra Laufer Lobo, M.S. CCC-SLP
Alexandra co-founded Dramatic Pragmatics Speech and Language Center in 2008. She co-developed the Dramatic Pragmatics methodology and continues to create new strategies and concepts for social communication groups and individual therapy, individualizing to meet each client's unique needs. Alexandra oversees the day to day operations of Dramatic Pragmatics including training and supervision of therapists in addition to continuing to fulfill her clinical passion, providing group and individual therapy for children and adolescents. 
Alexandra received her Masters Degree in Speech Language Pathology from Boston University. Before re-locating to NY, Alexandra worked at a private special education school from 2005-2008, where she created, developed and implemented a daily, school-wide pragmatic language/social skills curriculum for K-12 students with language based learning disabilities, as well as provided daily individual speech/language therapy. Additionally, Alexandra worked at The Ely Center, a private practice in Newton, MA from 2004-2008, where she led social language groups and assisted with consultation to local school districts. Alexandra co-directed a specialized summer program for social skill development, where she trained and supervised the staff in using the most effective social skill treatment interventions. In 2008, Alexandra was fortunate to have the opportunity to train directly with Michelle Garcia Winner and Pamela Crooke, the creators of Social Thinking TM methodology in San Jose, CA. Through the clinical mentorship, Alexandra gained a deep knowledge base regarding social thinking implementation in group therapy. 
In addition to pragmatic language, Alexandra developed a strong clinical interest in early screening and advocacy for Dyslexia/Specific Reading Disability. She has continued professional development in this area and leads a Dyslexia Awareness and Advocacy Group through her local public school system, viewing this issue as both a professional in the field and as a parent. Other clinical interests include early identification and treatment of Autism spectrum disorders, Childhood Apraxia of Speech (CAS) and school-aged language based learning disabilities.