About Us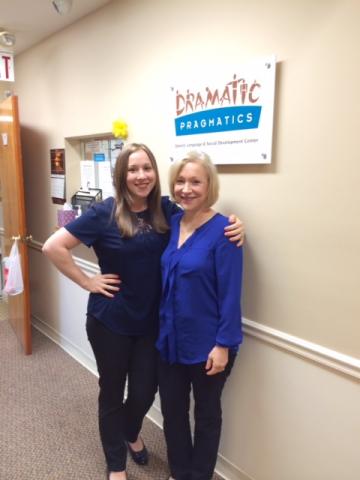 The Dramatic Pragmatic's Team  led by Co-Directors, Barbara Laufer and Alexandra Lobo, are all  ASHA certified Masters Level Speech-Language Pathologists of the highest caliber, who truly love what they do! Barbara and Alex, a mother/daughter team, bring their years of experience, innovative approach, and commitment to involve parents collaboratively in the evaluation, planning, treatment and carryover of intervention for their child.  Barbara and Alex's life work is in reaching children who have language, learning, attentional and social communication deficits.  They and their team have a passion not only for speech, language and social skill difficulties, but for "looking at the whole child" and helping parents prioritize what is the next and most important step in maximizing their child's development and potential.  The DP Team is made up of SLP's who are carefully hired, most highly recommended by other professionals in our specialty area and reflect the top caliber of services provided by our center.  Every SLP must have a deep understanding of the interplay between language, social skills, executive functioning, behavior, reasoning and problem solving. Before leading social skills groups at DP, each SLP' goes through an extensive shadowing and clinical training process under Alex and Barbara's guidance. This intensive training enables them to have a deep understanding of group dynamics, pragmatic language, social skills, executive functioning and how it all relates to narrative language, organization of thought, conversational skills, perspective taking and social problem solving. 
As language specialists, our team is experienced and thoughtful in getting to know your individual child, figuring out his/her interests, personality, strengths and  areas of deficit and are able to plan an engaging  program of intervention to target and remediate his/her difficulties. DP clinicians are constantly planning and writing new materials, brainstorming ideas collaboratively to help students access and generalize the strategies taught.   The DP Team of professionals welcomes the child with subtle, underlying language issues who can easily fall through the cracks as well as the complex language cases with multiple layers of difficulties in various areas! Our team prides ourselves on our individualized approach with each and every case whether it be planning for our individual speech and language sessions or planning for a social skills/pragmatic language group.
 How was Dramatic Pragmatics developed?
Barbara, Laufer MS CCC,  having had a well-known and  established  speech and language private practice in Westchester County for over  20 years, developed Dramatic Pragmatics social language groups as an additional intervention for her students.  After realizing  many of her client's language deficits were contributing to their difficulties with social interaction with peers, Barbara began to look deeper into the relationship between communication and social success.  Because language is the vehicle that drives social interaction , difficulties with  literal language comprehension and use,  conversational management, perspective taking, and reading the social cues all added to these students lack of success in the realm of social skills and making and keeping friends. Overlays of anxiety, when students cannot easily access language "on demand" during peer interactions, further exacerbate the problem and erodes self confidence.   Dramatic Pragmatics was born out of this need and Barbara developed her own materials and techniques for "acting for life" using original monologues, scripts and "role play" in addition to other evidence practiced based techniques.
Alexandra Lobo MS CCC, inspired by helping out in her mother's pragmatics groups from an early age, became steadfast in her goal to work with children and adolescents with social communication difficulties.  Looking for opportunities to be mentored by leaders in the field, she completed her masters while working under pioneers in the social language word.  Inspired by the many talented professionals she worked with along the way, Alexandra immersed herself in creating new, updated ways to help students hook onto the core concepts she was teaching her students.  Once employed as a full-time speech-language pathologist, she led pragmatic language /Social Thinking group schools, private practice and camps.  She continued to provide traditional speech and language therapy using non-traditional activities to bring the skills to life.  Building on her positive results, Alex collaborated  with Barbara from afar and created and shared materials and ideas, all along planning to eventually open their dream speech and  language center which would also offer groups in social pragmatic language and Social Thinking™, in addition to traditional speech/language therapy using an engaging, functional approach.  
 When Alexandra returned to NY, the mother/daughter team was ready to make their dream come true.  Finding the little red house almost ten years ago, they knew it was the perfect place!  Three expansions later, Dramatic Pragmatics spans the first two floors of the warm and inviting house. Within the walls of DP, families gain much needed support and watch their children gain valuable skills to help them throughout a lifetime.  Most importantly, families come to know DP as the place that is always there for guidance, whether it's helping them locate a referral to a related discipline or problem solving a new roadblock that has come up in the speech/language or social skills domain. Nothing gives the DP team more pleasure and happiness than the positive updates from former clients, sharing their successes and gratitude for the skills they learned in "the little red house".